Electric Egg Waffle Maker  Machine FY-6
Features of our commercial egg waffle maker:
1. Material: Stainless steel + Non-Stick Aluminum plate
2. Most economic and popular model, temperature range: 50-250℃, with timer 0-5 minutes.
3. All our egg waffle makers are with 3 layers non-stick Teflon coating on plate.
4. Even heating plate,  heating plate has been used to make sure it is fast and even heating and long time using, our heating plate can work 8-12 hours per day.
5. Plug: Europe plug ,British plug, American plug, Swiss plug, South Africa plug etc.
What is difference between our egg waffle maker and other supplier?
1.  Heating element: heating plate instead of heating tube used by other supplier

   High quality heating plate instead of heating tube to make sure it is fast, even heating and long time using, our heating plate can work 8-12 hours per day.
  Even Heating is everywhere on the plate, even the corners, that is the main difference between our machine and others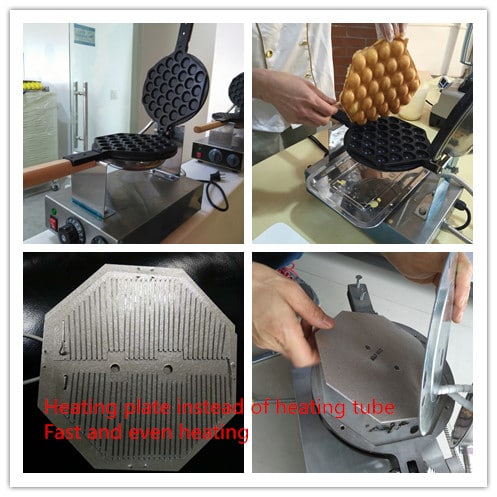 Heating element from other supplier: heating tube
can not get even heating if use heating tube, most of clients buy from other supplier told us they have problem of making good egg waffle , in the center of plate it is too much heat, but in corners there is only little heat or no heat, so in the center it is always overcooked, in corners it is not cooked yet.
 2. Non-stick Teflon coating on plate
As mentioned above, all our egg waffle maker are with 3 layers high quality telfon coating to avoid egg waffle stick on plates and make sure telfon coating will not be gone after long time of using.
Telfon coating used on machine from other suppliers:
It is only 1 or 2 layers poor quality of telfon coating which will be gone after 3 months of using.
3. Thermostat and timer
High quality thermostat and timer with Chinese brand have been used to make high quality of egg waffle maker, EGO Germany brand thermostat has been used in our other model NO. FY-6Y, pls refer to our model NO. FY-6Y if needed.
Operating Steps of egg waffle maker:
1.Ingredients: Egg, water, refined sugar, baking powder, special oil for egg waffle.
2.Mix the ingredients.
3.Filtering the ingredients with filter screen.
4.Turn on the power switch , adjust temperature from 160-180℃.
5.When the temperature reach designated degrees( take example, 170℃), the green light will be off, then put egg waffle to the NON-stick plate of egg waffle      machine evenly.
6. Adjust timer to 3 minutes and wait.
7. Open the Up cover after 3 minutes, take egg waffle out and enjoy it.
Spare parts:
Spare parts like heating plate, thermostat and timer should be prepared in stock in case machine is not working, you can change spare parts in demo guidance  of our egg waffle maker, pls contact us if you need to know how to change heating element, thermostat and timer, professional and detailed video will be sent to you.
How to clean?
1. Unplug the power cable and ensure that the product is cooled completely, then cleaning and collection.
2. Cleaning cooking surface with a soft cloth, pls do not use soap to clean plate of the machine, cause Telfon coating will be gone after short time of using.
3. Don't use wire brush, stiff brush or other corrosive liquids to clean it, avoiding damage the surface coating
4. Never clean the product by sprinkling water and immersed in water.
Comparison of our bubble waffle maker in different models: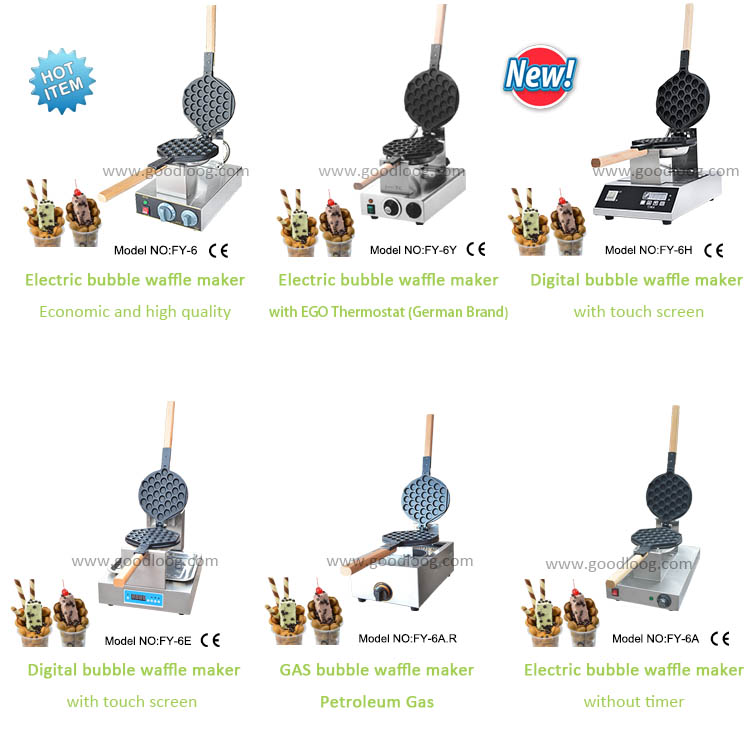 Hong Kong Egg Waffle Maker
Packing Size: 535*345*365MM
Dimensions: 340*250*220MM
Gross Weight: 12KG
Power: 1415W
Volts:220-240V
Standard carton box with foam inside for package
Or Polywood packed with carton if needed